The Spirit of Norfolk
Art Exhibition
The hall was packed for our 2013 art exhibition: 'The Spirit of Norfolk'. The children produced some fantastic work, depicting the beautiful Norfolk landscape in watercolour; Wreningham Church the style of Georges Seurat; bright and bold Norfolk beach-huts jumping off the page and fields and seashores in the style of Vincent van Gogh.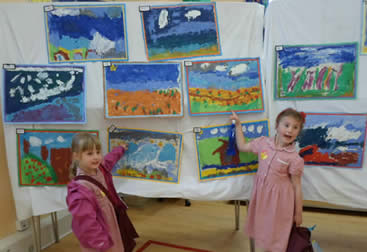 Members of Class 1 see their work on display.
Click on the Exhibition Zone
You Wish to Visit
Class 1 Class 2
Van Gogh Landscapes Norfolk Beach Huts

Class 3 Class 4
Seurat Churches Norfolk Watercolours
We hope to see you next year !